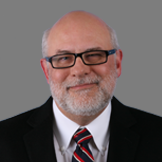 Dr. Hanslits grew up in Muskegon, Michigan, and graduated from the medical school program at the University of Michigan in 1980, where he met his classmate and future wife, Dr. Cynthia Harper (family doctor at The Doctors Clinic). He did a pathology internship followed by diagnostic radiology residency serving as chief resident, and then an additional year as instructor in body imaging and interventional radiology at the University of Cincinnati from 1980 to 1985.
Mike and Cindy moved to southwest Washington in 1985, where Mike was a partner in Longview Radiologists until 1991, and then moved to Salem and joined SRC. He has an interest in advanced body imaging including CT virtual colonoscopy, coronary and heart CT angiography, and women's imaging, including US and stereotactic breast biopsy, as well as breast MRI. He particularly enjoys consulting with other doctors and working with patients. He has been active in medical staff affairs throughout his career, serving on the medical executive committee at St. John's Medical Center in Longview and at Salem Hospital with focus on quality of care and patient safety issues.
Outside interests include cycling, travel, fishing, cooking, theater, and the Wolverines of course.